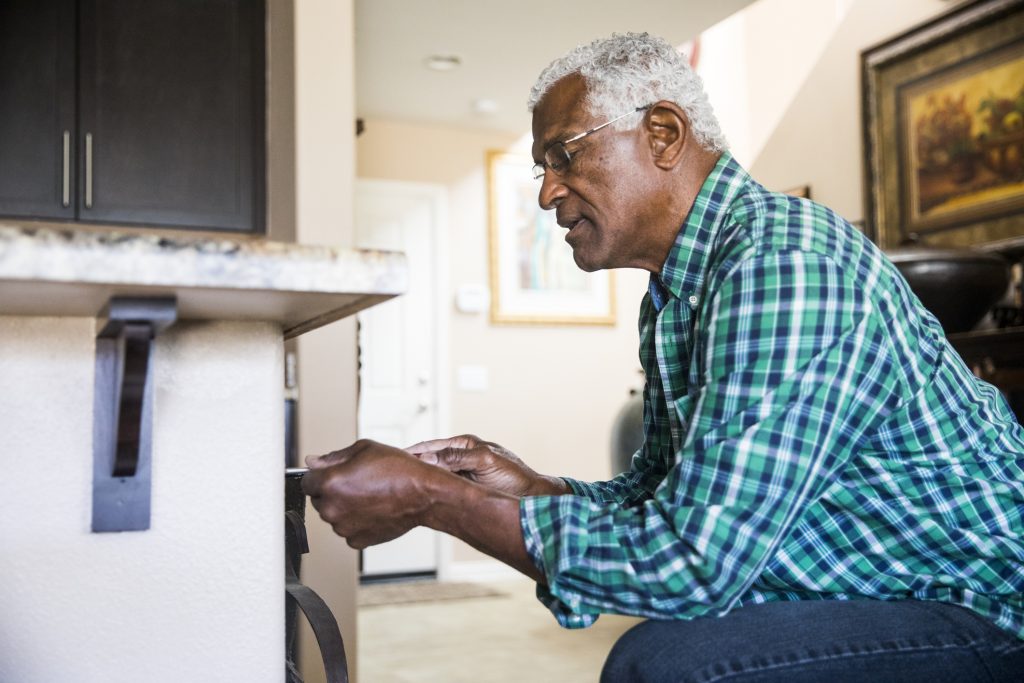 Many homeowners age 50 and older say that they want to "age in place," but the reality is that many homes were not built to accommodate the needs of older people. If you want to remain in your house during your golden years, you may need to do some home remodeling. Fortunately, there are modifications you can make to your home to accommodate yourself as you age. And, they will be easier to make before you actually need them. Features like no-step entries and a first floor bedroom and full bathroom can keep you in your home as you age.
Bathrooms can be remodeled to accommodate wheelchairs with curbless showers with grab bars and high-seat toilets. Narrow doorways can be widened to accommodate wheelchairs. The sidewalk and steps leading to the front door can be replaced with a ramp for wheelchairs. If you or your spouse are not using wheelchairs, replacing deep-pile carpet with low-pile carpet or installing no-slip flooring to prevent falls can help to make your home safer as you age.
If you're caring for aging parents, you may have noticed that one thing that makes staying in your home as you age difficult is all the upkeep: To reduce maintenance, you can install quartz countertops that are stain-resistant and never need sealing, and LED lights which last longer. Replacing fixed shelves with roll-out shelves means no need to bend over, and retrofitting upper cabinets with pull-down shelving units means avoiding lifting heavy items.
Small changes like adding lights to the front of our home and along the sidewalk so you can see at night and a bench by the front door so you can rest can make a difference. If you're thinking of remaining in your home in your golden years, it could be beneficial to consider the necessary alternations before they become necessary. Features like no-step entries and first floor bedrooms can make your home more livable as you age. If you're thinking of how to change your home to fit your needs as you age, you understand the importance of planning. Just like your house, your financial plan needs to be ready for when you retire. The professionals at BML Wealth can help you create a comprehensive retirement plan that takes your unique needs into account. Click here to schedule you no cost, no-obligation financial review today.
This commentary on this website reflects the personal opinions, viewpoints, and analyses of BML Wealth Management, LLC's employees providing such comments. The views reflected in the commentary are subject to change at any time without notice. Nothing on this website constitutes investment advice, performance data or any recommendation that any particular security, portfolio of securities, transaction or investment strategy is suitable for any specific person. Any mention of a particular security and related performance data is not a recommendation to buy or sell that security. BML Wealth Management, LLC is for marketing purposes only. Investment management services are offered through Cooper Financial Group dba Cooper McManus, which manages its clients' accounts using a variety of investment techniques and strategies, which are not necessarily discussed in the commentary. Investments in securities involve the risk of loss. Past performance is no guarantee of future results.
Ready to take
The Next Step?
Schedule Your Retirement Fingerprint® Review
A Complimentary 15 Minute Call