You Don't Have to Downsize to Declutter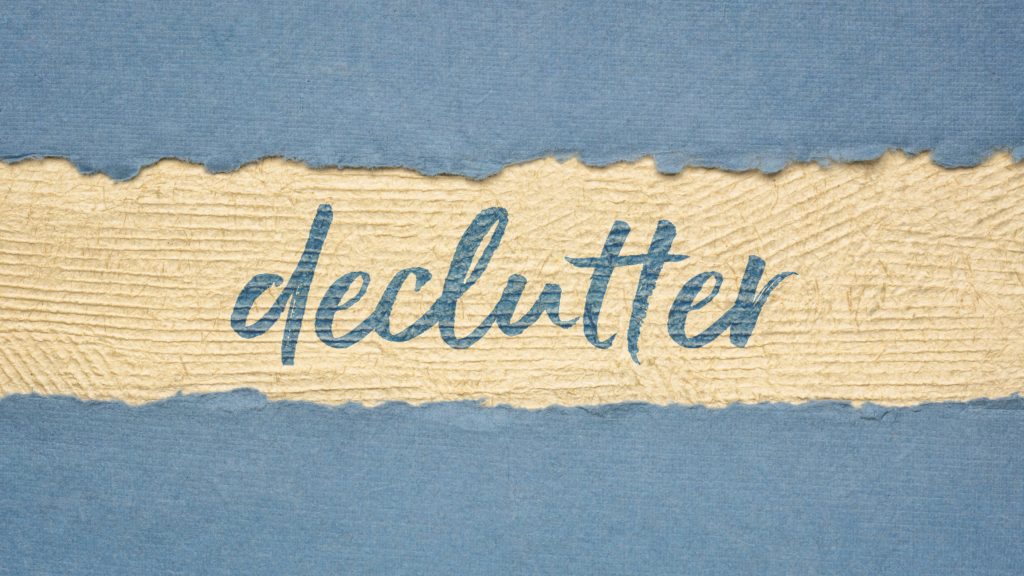 If your nest isn't as full as it once was, or you have more time on your hands in retirement, consider decluttering. Even if downsizing in the near future isn't part of your desired retirement lifestyle, having less clutter in your living space and better organizing the remaining stuff can help make a world of difference. If you've accumulated more possessions than you need over the years, consider these strategies for decluttering your home.
The Kitchen
It's easy for the kitchen to get cluttered with things that don't belong there, like a book someone was reading at the kitchen table, or important documents that someone put on the counter after they got them from the mailbox. The first step is to remove items that don't belong in the kitchen. Next, organize what is supposed to be there by how often you use it: Things you use daily can go on top of surfaces, things you use weekly can go in top drawers or at the front of cabinets, and things you use less frequently can go in the harder to reach places.
Your wardrobe
Take it one clothing type at a time, moving from shoes, to casual wear to business wear. It's easier to figure out which pairs of jeans to get rid of if you're looking at all your jeans at once. If there are two items that are very similar to each other, consider donating one of them. As you go through each item, separate into bins: A bin for dirty laundry, a bin of clothes that need to be repaired or dry cleaned, and a donation bin. If you have trouble deciding what clothes you don't need, think about if you've worn the item in the past year – if not, consider donating it.
Your desk
Go through old papers to see which you need to keep and which you can throw out. As for financial documents, it's generally fine to get rid of tax returns and supporting documents after three years. Other important documents can be organized in physical folders, or digitized and stored on a flash drive to save space. Once your living space is all set, you might move onto the outside and tend to your garden.
If you're looking to declutter your finances as well, we can help by creating a comprehensive retirement plan tailored to you, based on your unique financial situation and goals for the road ahead. Rather than go to multiple professionals for your retirement planning needs, you can get it all done here.
The commentary on this blog reflects the personal opinions, viewpoints and analyses of BML Wealth Management's employees providing such comments, and should not be regarded as a description of advisory services provided by Cooper Financial Group. The views reflected in the commentary are subject to change at any time without notice. Nothing on this blog constitutes investment advice. Any mention of a particular security and related performance data is not a recommendation to buy or sell that security. Investing involves risk, including the potential loss of principal. No investment strategy can guarantee a profit or protect against loss in periods of declining values. Past performance is no guarantee of future returns.
Investment Advisory services are offered through Cooper Financial Group, an SEC Registered Investment Advisory firm. All Insurance Services are offered through BML Wealth & Insurance Services. California Insurance License #0M15550. BML Wealth Management & Cooper Financial Group are not affiliated.
We do not provide tax or legal advice, all individuals are encouraged to seek guidance from qualified professionals regarding their personal situation. Any references to protection benefits or steady and reliable income streams in this guide refer only to fixed insurance products. They do not refer, in any way, to securities or investment advisory products. Annuity guarantees are backed by the financial strength and claims-paying ability of the issuing insurance company. Annuities are insurance products that may be subject to fees, surrender charges and holding periods which vary by insurance company. Annuities are not FDIC insured. Indices mentioned are unmanaged and cannot be invested into directly.
Ready to take
The Next Step?
Schedule Your Retirement Fingerprint® Review
A Complimentary 15 Minute Call